Dr.Sunder - 'The Musician'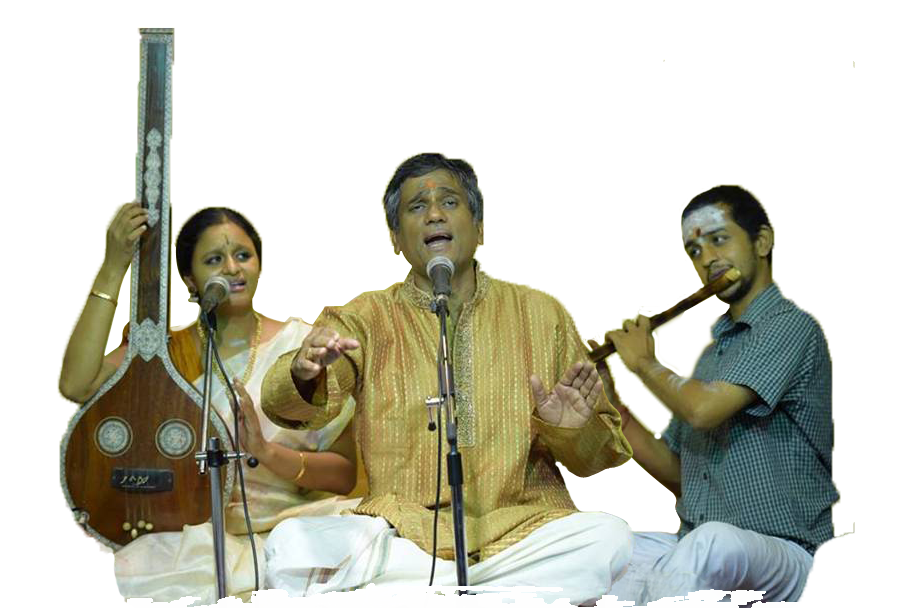 Musical Tutelage
Dr.Sunder got introduced to music at a very young age by his mother Parvathy. He attended music classes in Chembur, Bombay way back in 1971 and was tutored by Sri.Vaidyanatha Iyer. At one stage he was juggling time with his classes in Bengali music, drawing, Hindi and Marathi , while not letting go of the first rank in his class. Meanwhile he even found time to learn the Bengali language and attend spiritual classes at the Chinmaya mission.
He later came under the tutelage of Palghat Sri T.S.Anantharaman under whom he had personalized training. He also had the fortune to learn a few songs under Vidushi T.Brinda during her sojourns at Bombay. When he joined the SIES college in Sion, Bombay in 1976 he learnt for a brief period under Vidwan Trichy Swaminatha Iyer. By now his interest in music was fairly well entrenched and he had won almost all the prizes in music competitions in Bombay.
On The Performing Circuit:
The first public performance that he gave was in fact in Bengali music, at Birla Mandir, Bombay in 1975 and the second was a national integration music program conducted by his teacher in Bengali music Moloy Ghose in Shanmukhananda Hall Bombay. Sunder was always good in his studies and he was steadfast in his resolution to become a Doctor. He was so good in academics that he got admission into medicine both in Bombay & Madras but he chose to come down to Madras because of music. Providence brought him under the tutelage of the great maestro Sangeeta Kalanidhi Vidwan D.K.Jayaraman and he continued with him for 12 long years from 1978 to 1990. Commuting from Ayanavaram to Stanley medical college in Royapuram and later in the evening to his guru's house at Alwarpet by bus must have been quite a back breaker, but the love for music drove Sunder on.
During this period he amassed a huge repertoire and started giving solo performances. His first concert was at a temple close to home in Ayanavaram during the Navaratri festival in 1982. He is one of the foremost musicians and musicologists in the firmament of Carnatic music today.
He has extensively traveled and given over 500 concerts all over the world in Singapore, Toronto, Jakarta, Kuala Lumpur, Atlanta, Glasgow, Connecticut, Washington & Houston. He is the torch bearer of the unique DKJ 'bani' or style of singing. He has also performed several concerts in Hindusthani and Bengali [Rabindra Sangeet]. . He holds a Bachelors Degree in Indian Music and is well versed in Musicology, having learnt at the feet of the great musicologist Shri.P.K.Rajagopala Iyer.
He is one of the senior most disciples of Sangeetha Kalanidhi Vidwan Sri.T.K.Govinda Rao.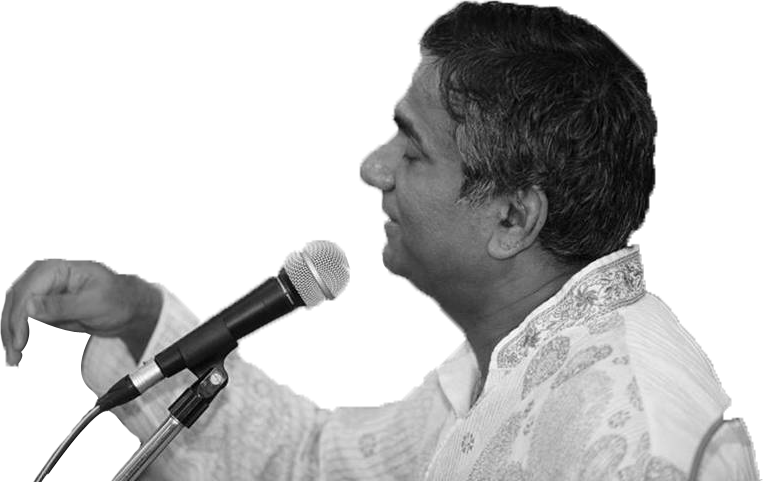 Singing Different Tunes
By 1986 he was married and he plunged into medical practice. He continued singing concerts individually and also with his guru and broad based his musical knowledge by coming under Ambattur Sri. Rajagopala Iyer one of the greatest musicologists in Carnatic music. The weekly classes at the feet of the great teacher, opened Sunder's eyes to new vistas in music, and would help him in his future endeavors to propagate music appreciation. He was graded B High in All India Radio in Carnatic Classical Music & B in Hindusthani Bhajans. This was under the influence of Smt.
Seetha Narayanan from whom he learnt Hindusthani Bhajans and for a brief period he gave public performances in this genre. He was very active in the Youth Association for Classical Music, and was the founding editor of the newsletter DHWANI. Dr. Sunder's training and interests in music are very cosmopolitan. He has sung in light music orchestras, choral music and ad jingles. He regularly listens to film music and one of his dreams is to give light music performances in Tamil and Hindi film music.
Passing on the bat
Another turning point came in 1998, when two kids Sruthi Sagar and Keerthana started learning music under him. Teaching them brought a new lease of life into Dr.Sunder's music. He has trained over five disciples but he believes that Sruthi Sagar & Keerthana are his ever lasting contribution to the field of Carnatic Music, representative of the inimitable DKJ Bani & Repertoire. These two children have already started performing and started getting recognition for their prodigious talent and strict adherence to aesthetics like their Guru. Dr.Sunder teaches visually impaired children with an aim to develop their talents and make them professional musicians. He has over 20 students in music.
Music Propogation Convenor Music forum
The next avatar of Dr.Sunder is as Music Propagator. When the Chairman of the Shriram Group of Companies Shri.R.Thyagarajan offered him the post of honorary convenor of the Music Forum Chennai, Dr.Sunder eagerly grabbed at the opportunity. He always wanted to create audiences for classical music and was the first to give a lec-dem on music appreciation, organized by the YACM in 1987. Dr.Sunder also brought out a cassette album in music appreciation in association with famous musicians T.M.Krishna and Vijay Siva. This album was produced by HMV.
He has taken upon himself the laudable responsibility of demystifying and propagating Carnatic music. As the Convenor of the Music Forum he has associated with a number of events along with various organizations for students and general public all over Tamilnadu. This includes series of Lecture demonstrations featuring top musicians speaking on the nuances of music. He has taken music to various towns in Tamilnadu like participate in several memorable programs in Mayavaram, Vriddhachalam, Kanchipuram, Thanjavur, Trichy, Neyveli, Vellore, Rajapalayam, Tiruvarur and Tirunelveli where he has address schoolchildren by the thousands. In Chennai the Music forum is involved in mega Yuva Rasika workshops in association with the Music academy and other institutions.
He produced and anchored a popular music serial titled "MAITHREEM BHAJATHA" for a popular TV channel which ran successfully for two years and completed over hundred and twenty episodes. He has also produced and hosted the epic serial comprising over 160 episodes chronicling the history of Tamil music " PANNISAI VITHTHAGARGAL" with Isaikkavi Ramanan and Pulavar Vaithyalingan, which is being aired on Makkal TV since September 2014.
The third serial in 2017 was titled PATHIGAMUM PASURAMUM and was telecast everyday during the holy month of Margazhi. From 2015 the TAG corporation and Sruti have joined hands with the Music forum to identify the 5 Voices of the future with a view to spotting talent among young musicians who are capable of performing full length concerts but haven't got the opportunities. The Music Forum also caters to the discerning rasika. With an endowment from the K.V.Ponnammal foundation and the Rukmani Arts, monthly workshops are organized on various topics, attended by the public, in a series titled "Sangeetha Lakshana Lakshya Series" with an aim to archive the lectures by eminent scholars on various topics of interest. Another novel idea was the yearly Lec Dem Mela being organized by the Sruti Foundation in association with the Music forum since 2010. CENTRE FOR CULTURAL RESOURCES AND TRAINING – For the first time in Chennai, CCRT organized week- long event in association with The Music Forum in Chennai at Youth Hostel, Adyar.
For posterity
The credit of bringing out several songs of the legendary contemporary composer Thanjavur Sankara Iyer goes to Dr.Sunder who learnt several of his songs and produced two cassettes of his songs which have caught the fancy of leading musicians of today. Because of his interest in Tamil Music,  he learnt ThiruKodilingam. This enabled him to render entire concerts in Thevaram and Divya Prabandham. The crowning glory came in 2003 when he was given the prestigious Kalaimamani title by the State Government. Numerous titles and awards followed and Dr. Sunder is still going strong on his chosen path!
Awards and Recognitions
For his efforts, the State of Tamilnadu honored him with the title "KALAIMAMANI" in Music (2003). He has also won a number of prizes, awards, and titles, which include ISAI KALAI CHELVAR, PERUMPAANA NAMBI, GANA KALA VIPANCHEE and VAIDYASASTRA PARANGATHA SANGEETHA KALAMANI. He is the Asthana Vidwan of Kanchi Kamakoti Mutt.
Writings in music
Dr. Sunder first came to Toronto in 2006, when he gave lectures to children taking advanced music. Since 2013 he has been invited by the Tamil Isai Kala Manram to give lectures on music theory to grades 2 to 7. He has also prepared the lecture notes to cover the entire syllabus of the Kala Manram. He was the founder editor of " Dhwani", a newsletter on Carnatic music and and compiled a book titled "FAQ's in Carnatic Music".
Gurus
1971 - 1974 : Sri. Vaidyanatha Iyer (Mumbai).
1974 -19 76 : Palghat Sri. T.S.Anantharaman (Mumbai).
1974 -19 76 : Smt. T.Brinda.
1976 - 1977 : Trichy Sri. Swaminatha Iyer (Mumbai).
1978 - 1991 : Sangeetha Kalanidhi Vidwan Sri.D.K.Jayaraman.
1992 - 1993 : Sangeetha Kalanidhi Vidwan Sri.T.K.Govinda Rao.
2001 - 2002 : Thanjavur Sankara Iyer.
Tamil Devotional music
Perumpaana Nambi Thiru Kodilingam
Hindustani Bhajans
1980 - 85 : Smt. Seetha Narayanan
Rabindra Sangeeth
1972 - 75 : Sri. Malloy Ghose (Mumbai)
Music Theory
1982 - 85 : Ambattur Sri.P.K. Rajagopala Iyer